Science
| Science Department |   |   |
| --- | --- | --- |
| HOD (Science) | Mdm R Parvathy | r_parvathy@schools.gov.sg |
| Level Head (Science) | Mdm Seow Guat Leng | seow_guat_leng@schools.gov.sg |
| Subject Head (Environmental Science) | Mr Vincent Lee | lee_chee_mun@schools.gov.sg |
VISION
Confident Learners, Active Inquirers
MISSION
Having a strong focus on process and thinking skills.
Stimulating curiosity and inculcating responsibility to the environment.
THEME
Innovators @ Rosyth School
STRATEGIC OBJECTIVES
Provide students with experiences which build on their interest in and stimulate their curiosity about their environment
Provide students with basic scientific terms and concepts to help them understand themselves and the world around them
Provide students opportunities to develop skills, habits of mind and attitudes necessary for scientific inquiry
Prepare students towards using scientific knowledge and methods in making personal decisions
Help students appreciate how science influences people and the environment
4 BELIEFS OF THE SCIENCE DEPARTMENT
1. Student – Centricity:
We have adopted the 5-E Inquiry Approach to able our students to acquire knowledge and understanding of their natural and physical world based on investigations, apply the skills and processes of inquiry and develop attitudes and values that are essential to the practice of science.
 
 
Engage
Object, event or question used to engage students.
Connections facilitated between what students know and can do.
Explore
Objects and phenomena are explored.
Hands-on activities, with guidance.
Explain
Students explain their understanding concepts & processes. New concepts and skills are introduced as conceptual clarity and cohesion are sought.
Elaborate
Activities allow students to apply concepts in contexts, and build on or extend understanding and skill.
Evaluate
Students assess their knowledge, skills and abilities.
Activities permit evaluation of student development & lesson effectiveness.
2. Helping Every Child learn Science:
We have differentiated approach for each topic (Challenge-Enrich –Support) and we have produced our own activity books to tailor to the needs of our students.

In addition we have differentiated programmes to challenge, enrich and support our students in science learning.
Challenge
Enrich
Support
E2 K Programme
Destination Imgination

Applied Learning Programme (ALP)
Sony Creative Toy Challenge
VIA in Science
Amazing Science

Pull-out Programme
3. Holistic Education
We collaborate with other departments in the school to enrich students' learning.
4. Instill values through Science
We have garnered partnerships with other organizations to help students appreciate how science influences people and the environment
External Organization
Programmes
PUB
P5 Learning Journey to NEWater Visitors' Centre
Adoption of Waterway at Bishan-AMK Park
World Water Day
RWS
P6 Learning Journey to Lee Kong Chian Natural History Museum
NEA
Waste Minimisation and Recycling
NParks
P4 Learning Journey to Bishan-AMK Park
P3 Every Child a Seed Programme
Community in Blossom
SEC
School Green Award (SGA)
P4 Learning Journey to Bishan-Ang Mo Kio Park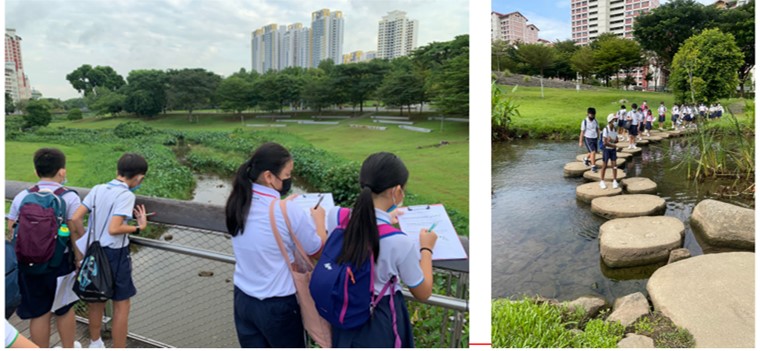 Rice Sustainable Programme (ALP)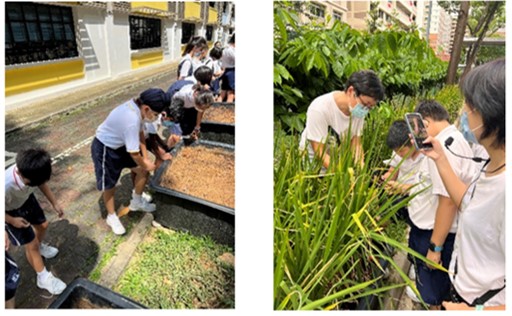 P5 Learning Journey to NEWater Visitors' Centre


P6 Learning Journey to Lee Kong Chien Natural History Museum (LKCNHM)